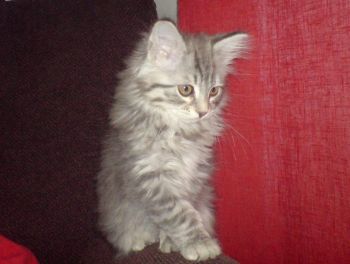 Siberian
Veterinarian Reviewed on January 4, 2008 by Dr. Janice Huntingford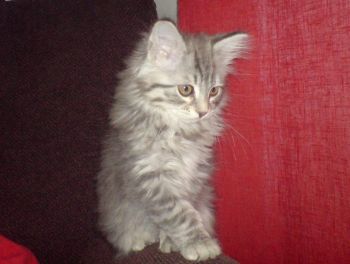 Physical Characteristics
Breed Group:
Semi Longhaired Group.
Weight:
10-20 pounds (4.5-9.1 kg).
Height:
Siberians have medium-large to large bodies and tend to be shorter and stockier than other cats that reach approximately the same weight.
Color(s):
Most organizations accept any coloring for Siberians, although some organizations do not acccept a pointed pattern.
Coat:
These cats have a triple coat of medium-long fur, usually with a tabby pattern.
Overview
Character:
Siberians are friendly and playful cats. Although generally quiet, these cats will sometimes make distinctive chirping sounds. Intelligent and warm-hearted, Siberians make very loyal and affectionate feline companions.
Country of Origin:
Russia.
History:
The Siberian breed is an ancient breed hailing from Russia. References and depictions of these cats can be found in Russian paintings and documents that date back hundreds of years. Despite the long history of Siberians, this breed only arrived in the United States during the 1990s.
Name:
The name "Siberian" refers to Siberia, a vast region in Russia where this breed originated.
Temperament:
Siberians have a gentle and calm disposition. These cats get along well with a wide variety of different pets, but they particularly enjoy interacting with humans.
Care
Training:
Due to their cleverness and gentle natures, Siberians are quite easy to train.
Activity:
Siberians are very playful and love interacting with humans.
Ownership:
Siberians are endearing cats that make excellent friends and companions. A Siberian will keep you entertained with its clown-like personality and will also be loyal and affectionate. Generally, these cats only require weekly grooming.
Breeders
No breeders listed at this time.
Sign up for our newsletter and receive more articles and the latest pet health updates and special offers.
177
people found this article useful. Did
you
find this article useful?
Yes
Our Expert

Dr. Janice Huntingford
Janice Huntingford, DVM, has been in veterinary practice for over 30 years and has founded two veterinary clinics since receiving her Doctor of Veterinary Medicine at the Ontario Veterinary College, University of Guelph. She has studied extensively in both conventional and holistic modalities.
Ask Dr. Jan
Related Posts