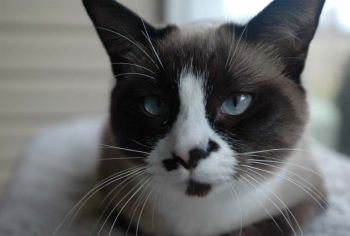 Snowshoe
Veterinarian Reviewed on January 4, 2008 by Dr. Janice Huntingford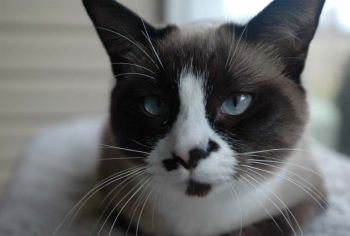 Physical Characteristics
Breed Group:
Shorthair Group.
Weight:
8-10 pounds.
Height:
Snowshoe cats grow to an average or medium size.
Color(s):
Snowshoes have white feet and can have color points in blue, seal, lilac, chocolate, fawn, or lynx.
Coat:
These cats have short, glossy coats that lie close to their bodies.
Overview
Character:
Snowshoe cats are friendly and sweet, and they make excellent companions. Loving and affectionate, Snowshoes purr a lot and like to play games such as fetch.
Country of Origin:
USA.
History:
This breed was developed in the United States during the 1960s when a Siamese cat was crossed with an American Shorthair. The breed standard was soon created and the Snowshoe cat was first registered in 1974. This breed, which is still quite rare, received championship status from the Cat Fanciers Federation in 1984.
Name:
This breed was named for its characteristic four white feet.
Temperament:
Snowshoes are easy-going and sociable cats. Both laid-back and lively, Snowshoes love to talk, although their voices are quieter than those of their Siamese cousins. These cats are very adaptable and get along well with children and other pets.
Care
Training:
Very intelligent, Snowshoe cats are quite trainable.
Activity:
Snowshoes are lively cats that love to play games.
Ownership:
Snowshoes make excellent companions and do well in households with both children and other pets. Friendly, affectionate, and talkative, this breed will quickly steal your heart. Snowshoes require only minimal grooming and are ideal for indoor living.
Breeders
No breeders listed at this time.
Sign up for our newsletter and receive more articles and the latest pet health updates and special offers.
182
people found this article useful. Did
you
find this article useful?
Yes
Our Expert

Dr. Janice Huntingford
Janice Huntingford, DVM, has been in veterinary practice for over 30 years and has founded two veterinary clinics since receiving her Doctor of Veterinary Medicine at the Ontario Veterinary College, University of Guelph. She has studied extensively in both conventional and holistic modalities.
Ask Dr. Jan
Related Posts